Towbar Fitting
At All-Fit Towbars we only fit towbars manufactured by specialist suppliers such as Westfalia, Witter, Brink, Bosal, Tow-Trust and PCT.
As members of the National Towbar & Trailer Association (NTTA) Quality Secured Scheme we work to the highest standards using workshop best practice. We offer exceptional customer service and provide guaranteed workmanship on all our work.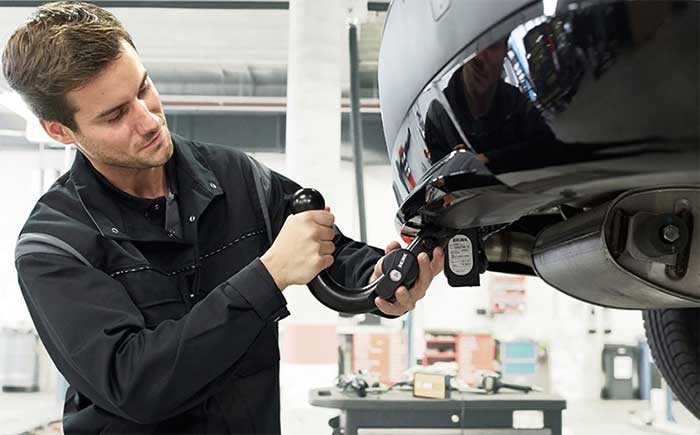 Our Guarantee
We guarantee the components that we use and our complete workmanship, for the period in which you own the vehicle.
In order to do this we ensure that:
We provide the type of tow bar that you require or advise you which one is suitable for your vehicle; a swan neck, detachable or flange ball
We also stock bumper protector plates for standard or detachable tow bars
We have a comprehensive range of socket mounting plates suitable for your vehicle
We stock stabilizers and all mounting plates
We hold in stock the specialist wiring modules suitable for the modern vehicle
We take every precaution to protect your vehicle both inside and out
We try to fit into your schedule whenever possible
We can offer you the use of our Courtesy Car or free local collection and return of your vehicle
Mobile Service
Sorry we don't offer a mobile service; we believe it is important to fit towbars in our own purpose-designed workshop by our team of qualified fitters using the correct equipment and tools. As a customer you get to see where and how we operate, and if you ever need any advice or a towbar checking in the future you'll know where to find us.
Towbar Quotes
Please provide details of your vehicle's make and model, year of manufacture or registration number and whether you require a fixed or detachable towbar with trailer or caravan electrics. We'll get back to you with a competitive price and expert advice on the most suitable towbar for your vehicle.
Click here to request a no-obligation towbar quote.
Which Towbar Do I Need?
Fixed Towbars
As well as being functional and easy to fit, fixed towbars offer excellent value for money.
Swan Neck
This is the most common type of towbar used across Europe, with a slimmer profile than a flange towbar, and is compatible with a wide range of vehicles.
Compatible with AL-KO stabilisers
Less likely to trigger reversing sensors
Can attach a cycle carrier but you can't tow at the same time
Cannot be fitted with a bumper shield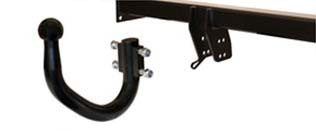 Flange Ball
Traditionally used in the UK for all serious forms of towing and generally the most cost effective option. A 50mm towball is bolted to a two or four hole plate (vehicle dependant) that also allows the fitting of a 25mm spacer so that accessories such as a towbar mounted cycle carrier can be used.
Tow and carry cycles at the same time (subject to nose load limits)
Bumper shields can be fitted
AL-KO towballs can be fitted
The towing height can be adjusted on commercial and 4x4 four-hole plate towbars
A choice of towing couplings and accessories can be fitted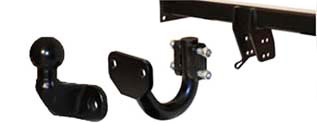 Detachable Towbar
Mainly used in the rest of Europe and slimmer than a flange bar, detachable towbar systems have become increasingly popular as they have the added benefit of not being on the vehicle when not required
Towball is removed when not in use preserving 'shins'
Unrestricted access to the boot
AL-KO and other friction type stabilisers can be fitted
Won't trigger reversing sensors when not towing
Can attach a cycle carrier but you cant tow at the same time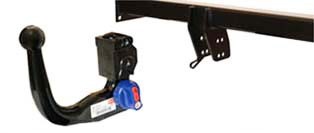 Towbar Supplied & Fitted
Westfalia Towbars
Westfalia are one of the leading manufacturers of towbars across the world, having manufactured more than 12 million towbars for use with cars and light vehicles. Their products are specially developed in co-operation with the automobile industry to match each vehicle model. For the 6th consecutive year, the towbars from Westfalia-Automotive won the Best Brand 2011 award in the towbar category from the leading German automotive magazine "auto motor und sport".

Tow-Trust Towbars
Tow-Trust Towbars are one of Europe's largest towing bracket manufacturers with over 30 years experience. Using the latest CAD/CAM (Computer Aided Design / manufacturing technology) the towbars are designed and manufactured to the highest possible standards, and conform to all relevant standards including the latest EC94/20 regulations.
Witter Towbars
Witter are the UK's largest manufacturer of towbar systems. They are an independent company and have recently celebrated their 50th year in business. This experience gives them the confidence to provide all towbars with a genuine lifetime guarantee known as the Witter Shield of Safety.

Brink Towbars
For over 100 years, Brink has been a top player in developing, manufacturing and testing towbars and highly values quality, user-friendliness and safety. Brink offers a wide variety of towbars and wiring kits to provide a quality and safe solution for virtually all car makes.

BOSAL Towbars
BOSAL are now one of Europe's largest manufacturers with a range of flanged, swan-neck and detachable towing brackets. Type approved towing brackets for 'S' registered vehicles onwards.

PCT Towbars
PCT Towbars are one of Europe's leading designers, manufacturers and distributors of towbars, towing electrics and automotive products. Their precision engineering heritage dates back over 80 years and they offer one of the most comprehensive and best quality towbar and towing accessory product ranges in Europe.